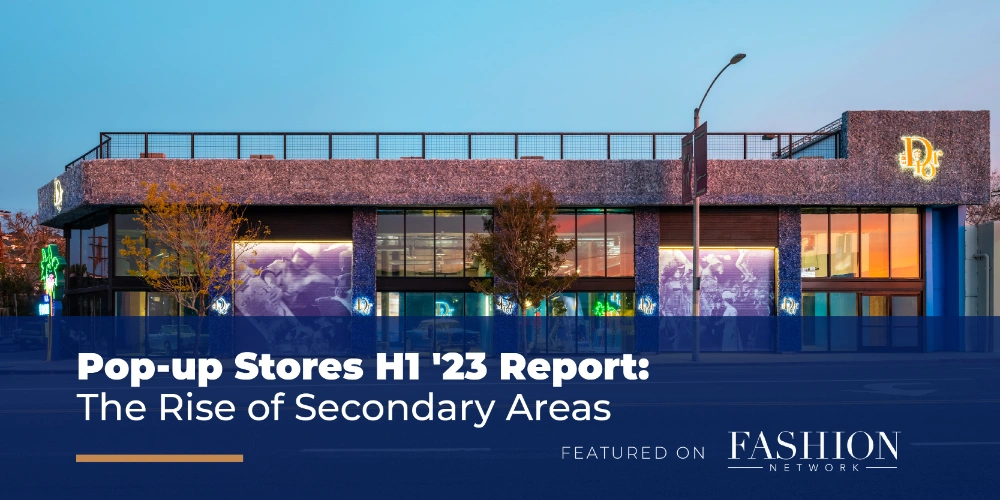 Luxury labels driving fashion's pop-up store boom
hubs.ly
In the dynamic world of luxury retail, staying informed is key.
We are pleased to share that Luxurynsight's recent feature on Fashion Network, authored by Dominique Muret, highlights our latest report: 'Pop-up stores H1 2023: The Rise of Secondary Areas' This report takes us on a fascinating journey into the ever-changing realm of luxury retail.
Key Takeaways:
Flexibility Redefined: Pop-up stores are no longer just a fleeting trend; they have evolved into a powerful tool for luxury brands. Offering flexibility and cost-efficiency, they allow brands to adapt and innovate swiftly.
Luxurynsight's Take: Our report delves into the strategies of 15 leading luxury across 20 strategic locations in the first half of 2023. It's a comprehensive exploration of the transformative role pop-up stores are playing.
Reimagining Retail: Pop-up stores are rewriting the rules of luxury retail. They are now synonymous with immersive experiences, personalization, and sustainability. Brands are pushing boundaries, embracing creative concepts that resonate with consumers.
Asia's Dominance: Asia, particularly China, has emerged as the epicenter of the pop-up revolution. Luxury labels are strategically positioning themselves in untapped markets, reflecting shifting consumer behaviors.
The Future is Bright: Pop-up stores are not a passing trend; they are the future of luxury retail. They provide brands with a dynamic platform to innovate and engage with consumers on a deeper level.
Luxurynsight's featured insights on Fashion Network underscore our commitment to deciphering the ever-evolving luxury landscape.
The Pop-up Stores H1'23 Report: The Rise of Secondary Areas was made possible thanks to LY Retail, Luxurynsight's AI-powered worldwide retail mapping platform for luxury, fashion, and beauty leaders. View and download the report here.
Read the full article and discover more in-depth insights on Fashion Network.