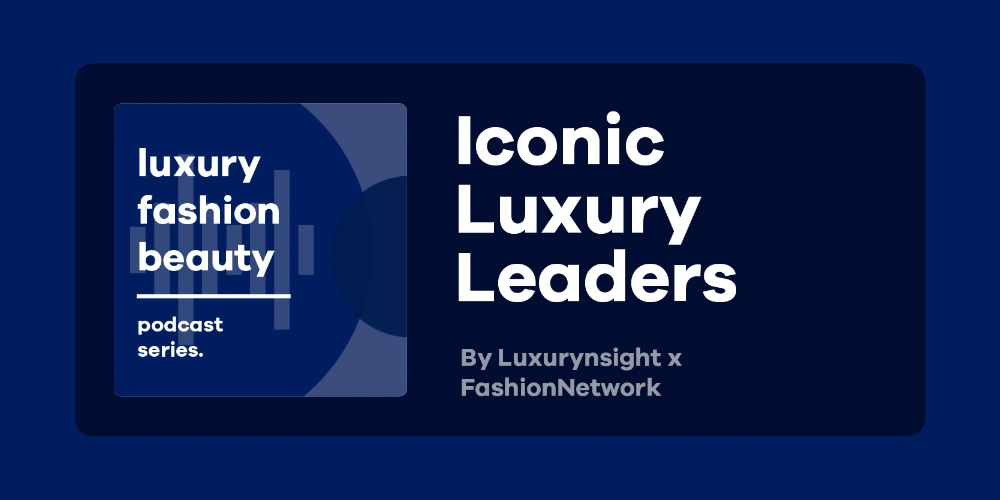 Iconic luxury leaders you need to listen to now
soundcloud.com
As most companies are enjoying a well-deserved break over the summer, there's no better time to indulge in a curated podcast playlist that celebrates the people who shape the world of luxury. Our Luxurynsight x Fashion Network podcast summer playlist features iconic leaders who have had a profound impact on the industry.

Explore the world of luxury brands through the eyes of Stanislas de Quercize, esteemed industry leading figure with a first-class track record in the world of high jewelry and fashion.
In this podcast episode, Stanislas will take you down his journey and experiences at iconic luxury houses, at the same time uncovering how luxury Maisons achieve growth through democratization, diversification, and internationalization while embracing data and technology for a customer-centric experience.
Our guest's expertise makes this episode essential for those interested in luxury, data, and technology. He shares his valuable perspective on customer-centricity, trust, transparency, and the role of data intelligence in making informed decisions in the ever-evolving luxury market.
Stanislas is the former President and CEO of Montblanc France and Montblanc USA, Cartier France and Cartier USA, Cartier International, Van Cleef & Arpels International, and Richemont France.
Today, he is committed to help shareholders, CEO's and Boards to maximize their positive impact by being a Board Member of Messika, Louboutin, Caravelle, Barnes International, and Fondation Rémy Cointreau, among many others.

Discover the essence of French luxury as we dive into the journey of Christian Blanckaert who has been at the forefront of the significant shifts that the luxury industry has gone through over the past two decades.
In his candid conversation with Godfrey Deeny, Editor-in-Chief of Fashion Network, Christian offers invaluable insights into the transformation of the industry: from his unexpected journey into luxury to his observations on the differences between French and Italian approaches, and his take on Chinese luxury customers.
Christian served more than 15 years at the Hermès Group as EVP of Hermès International and Chairman & CEO of Hermès Sellier.
Moreover, he occupied a series of senior positions in the luxury and consumer goods industry including President of Comité Colbert, Chairman of Petit Bateau, a board member of Moncler and currently a board member of Vestiaire Collective, Furla, Yves Rocher and Champagne Piper Heidsieck.
He's also the former mayor of Varengeville-sur-Mer, the President of Fondation Weston, and the author and co-author of several books, including Luxe, The Road to Luxury, and Les 100 Mots du Luxe.

They say there is no bond between the West and the East that is stronger than the bond shared by France and Japan. And this episode will tell you why.
Richard Collasse, Head of Global Travel Retail at Chanel, takes us on a cross-cultural journey. With his extensive experience in Japan where he lived 45 years and beyond, he shares insights into the impact of culture and society on luxury brands.
Though based in Switzerland, Richard's impressive career has been rooted in Japan, Asia's first prominent buyer of luxury goods and one of the biggest luxury markets in the world.
In this episode, he shares first-hand knowledge of the Japanese market, unveils the significance of culture and savoir-faire in the luxury sector, and sheds light on Chanel's evolution and its resonance with Japanese consumers.
Whether you're a luxury enthusiast or interested in the Japanese market dynamics, you do not want to miss out on this one.
Richard is President of Chanel K.K. in Japan and President of European Business Council (EBC). In 2010, he received a literary award for his novel, Saya.

If you're a perfume enthusiast or aspiring to understand the world of luxury fragrances, this episode will definitely dry down well on you.
Immerse yourself in the world of luxury fragrances as Isabelle Gex takes you on a captivating journey into the intricacies of perfume creation, from the choice of container to the significance of design and brand representation to the most memorable product launches and campaigns she has overseen.
Offering invaluable insights on the world of fragrances, Isabelle helps us navigate the cultural nuances between Europe, America, and Asia, and how they influence strategy development.
You'll also discover the power of visual storytelling, brand identity, and creating strong emotional connections with consumers. Isabelle shares the secrets of crafting compelling perfume stories and gain profound knowledge from a true expert in the field now.
Isabelle is the former President of Shiseido Global Fragrances, President and CEO of Serge Lutens, Global President of LVMH Parfums Luxe International (Fendi Perfumes, Pucci Parfums, Givenchy Parfums), and International Marketing Director at Chanel Perfumes and Cosmetics.
Today, Isabelle accompanies major brands in their transformation journey. She's also a business angel and board member of French startups aiming to have a positive impact.

Sidney Toledano, the visionary leader of LVMH Fashion Group, needs no introduction.
Sidney takes us on a journey behind the scenes of the world of fashion and beyond the glamor. The visionary leader of LVMH Fashion Group shares his take on the dynamic synergy that exists between creative expression and corporate success.
Having steered Dior Couture for two decades, Toledano's wealth of experience shines in this episode, where he unveils the vision and strategies shaping the future of the industry, and the stories behind fashion relaunches, and the influence of China, Millennials, and sustainability.
We loved to hear more about his personal experience of collaborating with creative directors such as Hedi Slimane and John Galliano, including an exclusive retelling of a meeting with the former Dior designer a few years after the controversy that triggered his departure.
Sidney is the former CEO of Lancel and Dior and, since 2018, has been the CEO of LMVH Fashion Group, which includes brands such as Givenchy, Emilio Pucci, Marc Jacobs, and Kenzo.

"A vision without a strategy remains an illusion."
Lee Bolman
Natalie Bader is a true visionary when it comes to revitalizing and reenergizing luxury brands and retailers. In this episode, the brilliant brand strategist helps us understand the art of luxury branding.
From her early days at Revlon to crafting innovative strategies for Yves Rocher, Chanel, Sephora, and Fred, her gift for weaving captivating stories that deeply resonate with consumers radiates throughout as she recounts her pivotal role as the CEO France of Prada, where she breathed new life into the brand's presence.
She finally takes us through her journey at the Ritz where the art of hospitality gets inspiration from the luxury world at large, and vice versa.
Anyone willing to understand the intricacies of branding at scale will be rewarded with fantastic key takeaways from this episode.
Natalie is the former Board Member of the Ritz, Brand President of Clarins, CEO France of Prada, President of Fred Paris, Director of Marketing and Communication at Sephora, and Media Director Europe at Chanel.

Raise your glass with us and embark on a bubbly adventure to the world of champagne mastery with the exceptional Maggie Henriquez, former President of Krug.
Thanks to Maggie's transformative leadership, Krug unlocked a world of innovation and elegance at the prestigious champagne producer since she stepped in a decade ago.
In this episode hosted by Olivier Guyot, Editor-in-Chief France at Fashion Network, Maggie walks us through her journey from Venezuela to Paris as a woman in a male-dominated industry. She also unveils the artistry behind champagne-making and embracing the art of savoring the slow dance of luxury product development.
For anyone seeking inspiration from a true industry leader who has turned adversity into triumph, this encouraging episode is an absolute must-listen. Find out how Maggie redefined Krug's strategy and revolutionized marketing by incorporating music, art and culture with the discovery of the original founder's notebook.
Since the release of this episode in November 2021, Maggie has taken on a new challenge as CEO of Baccarat. She's also Administrator at Campari Group, a coach, and a speaker on topics such as wines, crisis management, marketing and strategy, women leadership, and building luxury brands.
We hope you'll enjoy this Luxurynsight x Fashion Network podcast summer playlist packed with unique takeaways from some of the industry's most iconic leaders stemming from a wide range of verticals, from high jewelry to wines & spirits, as well as fashion and beauty. Discover more episodes now.