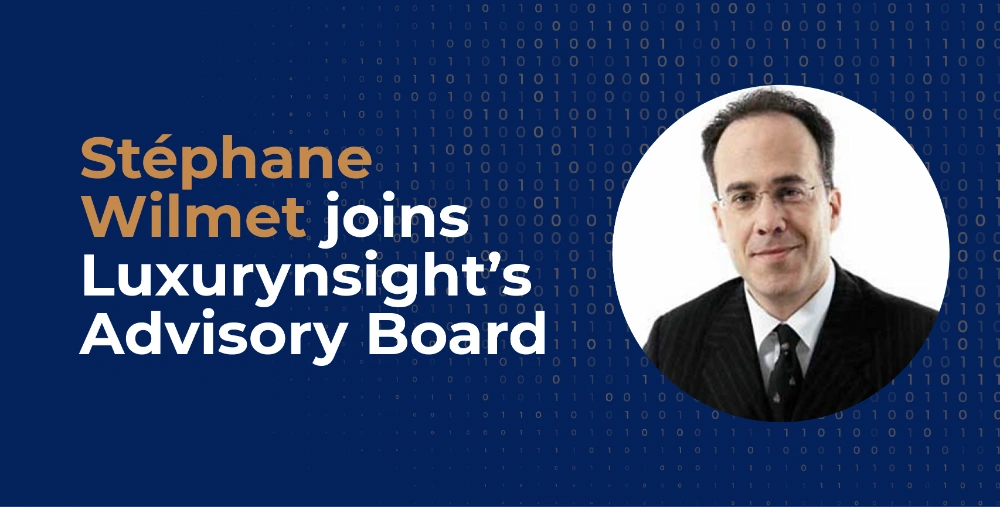 Luxurynsight welcomes Stéphane Wilmet as its new advisory board member
www.luxurynsight.com
Founded by Jonathan Siboni in 2011, Luxurynsight, the leading data intelligence platform for the luxury industry, is currently servicing over 100 clients, providing unparalleled data-driven analytics to luxury groups and Maisons such as LVMH, Richemont, Kering, Balenciaga, Dior, L'Oréal, and Chalhoub.
To accelerate its growth and cultivate an ever-more client-centric approach, Luxurynsight is delighted to welcome Stéphane Wilmet as a new advisory board member.
With a 32-year career in the cosmetic industry, Wilmet possesses extensive knowledge in branding, mergers and acquisitions, and consumer insights across China and the U.S. His global experience includes digital expertise, with a strong focus on brand building, business model innovation, change management, and successful cross-cultural team leadership.
As Senior Vice President Mergers & Acquisitions at L'Oréal U.S. and former Chief Consumer Officer at L'Oréal China, as well as former General Manager of iconic Chinese, American, and French beauty brands such as Yuesai, SkinCeuticals, La Roche-Posay, and Vichy, Wilmet was instrumental in fostering consumer-centric transformations at L'Oréal and identifying and driving Asian and U.S. M&A initiatives such as 3CE, SkinCeuticals, and Takami.
He is a Board Director for Toys R' Us Asia and an advisor to private equity and family office firms. Wilmet's unwavering passion for innovation and growth continues to drive impact in the CPG industry.
"As business leaders, we often find ourselves inundated with an overwhelming amount of data, yet lacking the valuable insights we need. What sets Luxurynsight apart is its impressive track record as a unique, expert, and insightful data intelligence leader. Luxurynsight excels in assisting business and strategy teams to transcend data and gain meaningful insights on the market and competitors, empowering leaders like us to make smarter, quicker, and better decisions," said Wilmet.
Luxurynsight supports decision-makers in driving their pricing and retail strategy, brand diversification and new product development, thus helping them improving their operational excellence globally.
Learn more about the Luxurynsight suite here: