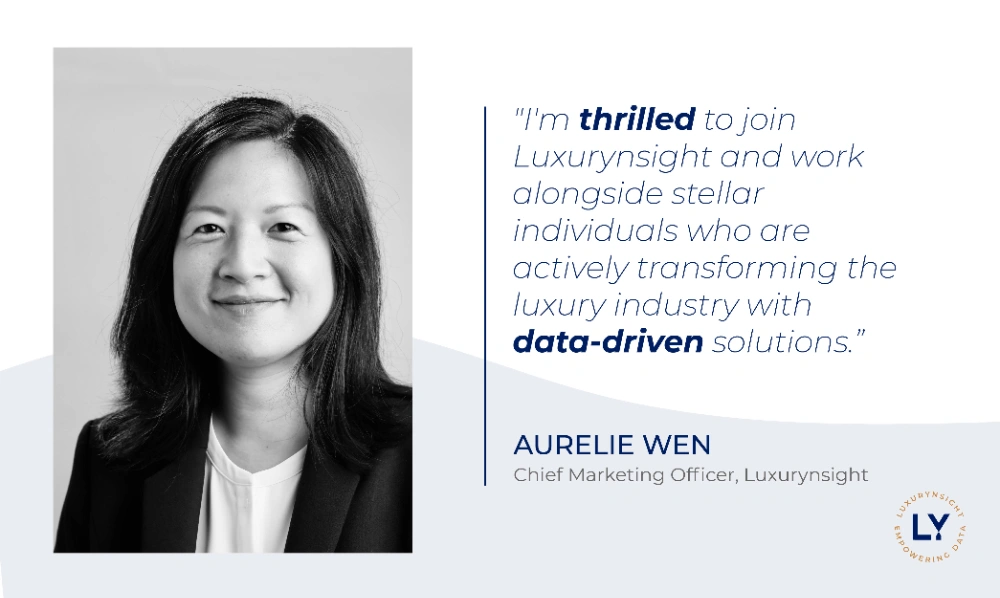 Aurelie Wen, joins as new CMO Luxurynsight
We're delighted to welcome our new CMO & Head of Strategic Partnerships, Aurélie Wen. Thanks to her expertise in the tech world, she has successfully led companies such as Talentwize, Agorize, and many more. We're excited to have her on board to accelerate and bring her global vision to Luxurynsight.
📝 What's your background?
I come from the tech industry with a specialization in SaaS (Software as a Service). I'm the former CEO of Talentwize, an HRtech platform that generates career development journeys for employees. Prior to that, I was the CEO for APAC and CEO for North America at Agorize, an online open innovation challenges platform that works with companies such as LVMH and L'Oréal.
💼 What do you do at Luxurynsight?
As the CMO of the company, my role is simple: making sure that the right people are offered the right products at the right time. Together with our experts, we craft and distribute content focused on how data can empower brands in their strategic decisions. It can be in the form of reports, events, webinars, blog articles, or the Luxurynsight x Fashion Network podcast.
💡 What made you want to join Luxurynsight?
I was blown away by the incredibly well-crafted platforms, the outstanding team and advisory board, and Jonathan's inspiring leadership style. Besides, the luxury industry is fascinating in its own right, with its specific codes and a unique way of doing business. I wanted to take on a new challenge in this thriving sector.
🔮 How does your work contribute to making our clients' lives easier?
I'm amazed by how our platforms help our clients save so much time and effort gathering intelligence so that they can focus on making the right decisions. I can't wait for us to get to the point where brands wonder how they used to operate without Luxurynsight, just like we wonder now how we used to communicate without phones.